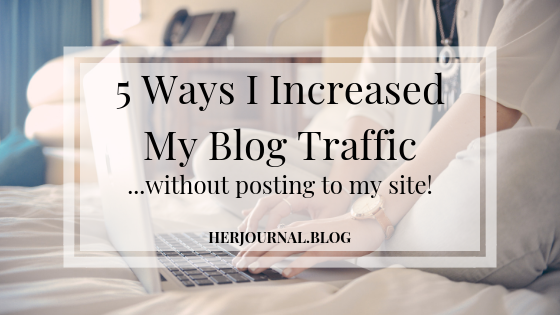 5 Ways I Increased my Blog Traffic without Posting to my Site
We may earn money or products from the companies mentioned in this post.
As a blogger, I'm always researching new ways to drive traffic to my site. This is something that's continually on every blogger's mind and the are so many methods to this madness. The trick is to find which method and technique works best for you. I took a month off from posting on my site and specifically focused on increasing my traffic, views, and engagements for my site. Below is a list of five techniques I used to increase my blog traffic without posting to my site.
1. Pinterest
I can't say enough good things about Pinterest! Not only do I find inspiration from pins, but I am also able to advertise myself by creating my own pins that link back to my site. What I didn't know a month ago was that not only do I need to pin my own content, but pinning other people's pins also prompted my blog. People are able to see who is pinning which content and they are able to check out your Pinterest profile! Make sure you've made the switch to the Pinterest business account that way you can claim your website and have a direct link to your site right there on the profile that others are viewing. And make sure you are pinning QUALITY pins and not just random pins for the sake of just pinning.
Another fun fact that I learned was the Pinterest is the second largest search engine, right below Google itself! Why not take advantage of this tool and use it to promote yourself?!
2. Tailwind
Tailwind is a miracle worker for a busy person like me who works a full-time job and is a toddler mom. I tried out Tailwind for its free 30-day trial and I ended up enrolling into one of their monthly packages. Tailwind allows you to set up pins that will be posted during optimal viewing times on to your Pinterest account. This is perfect because I work a full time job and the optimal times that my viewers are active on Pinterest are often during the hours that I'm working and cannot manually pin. I love that I can schedule all my pins days in advance! I often schedule for at least a week in advance so that I don't have to worry about any of that during the week.
Using this one tool has increased my monthly views on Pinterest significantly! My stats were 250 monthly views in September 2018 and today they are……..drum roll, please…….. 190,000 monthly views! Now, I know plenty of other people out there with thousands more, but for me, this is HUGE success and worth the investment I put into myself by utilizing Tailwind. Because of my success so far in Pinterest views, my daily blog views have also increased.
3. Facebook groups
Facebook groups are a great avenue for generating more traffic. With groups, you get what you put into it. The most important thing is to follow the group rules! Some will post threads about blog post likes, Facebook page likes, blog comment exchange, etc. With those threads are rules to follow in order to participate. Some rules include if you post your link, you must also follow or comment or like everyone else who posted on the thread. Another example would be if you want others to comment on your blog post, you must comment on the 10 links below your post in reciprocation. These are just some examples of how groups work! Some groups are very strict about the participation and will mute you or ban you if you continuously fail to follow the rules.
You can probably guess that your traffic would increase tremendously depending on your activity in the groups. I have become part of two groups so far and am amazed at the response I've seen in my stats. These groups are also a great place to look for collaboration opportunities or finding a blogging mentor!
4. Pinterest group boards
Sort of like Facebook groups, Pinterest group boards help to circulate the pins you created that link back to your site. Group boards also have rules such as you must repin one or two pins from other members for every one of your own pins that you pin to the group board. You can also schedule pins to be pinned on group boards utilizing Tailwind! This saves you so much time while also being an active member of the group and being within the guidelines.
5. Guest posting
Guest posting for other sites gets a whole different audience than the one you currently have. If you post onto another site, you are exposing your writing style, talent, and your blog site to that site's already established audience! You can gain new followers or subscribers this way! I have guest posted for two other blogs so far and I plan to continue to use this as a method for increasing my blog.
After this month of focusing hard core on my traffic, I'm happy to come back to writing content for my own site and see how much my readers missed me! I'm excited to continue learning about my blog, increasing traffic, developing new content, and collaboration with others!
Do you have a blog? What methods did you use to increase your traffic? Let me know in the comments below!
Always,
Samantha <3
Pin It!