We may earn money or products from the companies mentioned in this post.
What kind of flowers grow between your nose and your lips?
**Wait for it……………..
Two-lips!! ????????
Okay, so that might have been a bit corny. But I thought it was a cute little segue into today's spring activities topic: flowers! (I promise to not have anymore corny jokes coming up in the rest of this post).
When I think of spring, the first thing that pops into my mind is a flower and all the happiness that comes with holding one in your hand. Flowers bring about a sense of hope that a new chapter is coming and if you smell the flower long enough, you begin to appreciate some of the little things life and nature have to offer.
That being said, what better way to welcome spring than by participating in a flower growing activity with your little one? This activity was simple, fun, and educational for my toddler! On top of that, it was also budget friendly!
Flower Growing Kits
Recently, I had seen these small flower pot mini growing kits being sold. I wondered if this would be a good opportunity to introduce my 16 month old toddler to the world of planting. The price for a single pot was around $6 so I chose to invest into a pot that promised to become sunflowers.
With the growing kit came a growing medium (dehydrated soil), flower seeds, and directions all packaged up inside of a small flower pot. The pots came in different colors which I thought was cute and fun to have. Other options of growing kits included some fruits, vegetables, and more flowers like forget-me-nots and daisies.
How it Works
Once the contents of the the growing kit have been emptied, the first thing to do is put the growing medium in a bowl and mix in the designated amount of water with a fork so that you can fluff the soil with the water as it grows. I had my toddler help me with the mixing because what toddler doesn't like to get a little messy while watching something grow before his eyes? *missing sock and all!*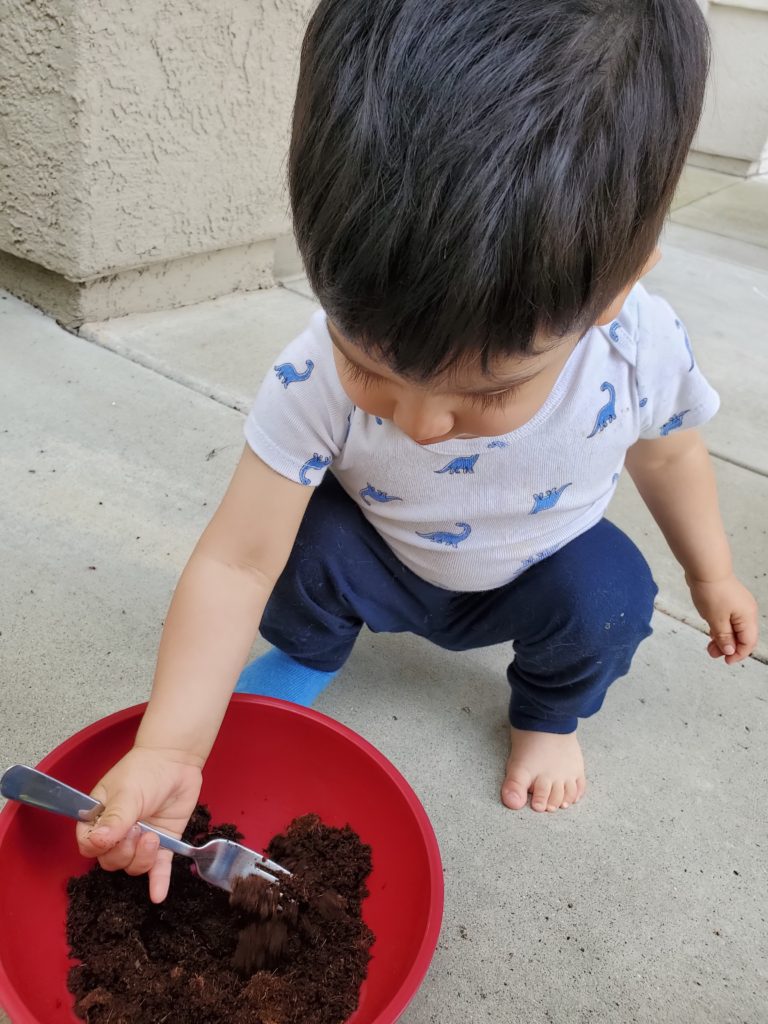 After all the fluffing, we transferred some of the now hydrated soil to the flower pot. We put the sunflower seeds in and then covered them with the remainder of the soil. My toddler enjoyed putting the soil into the pot and even squishing some of the soil between his fingers!
He is a toddler so there was a successful attempt at putting some of the soil in his mouth. Honestly, this didn't surprise me because #toddlerlife.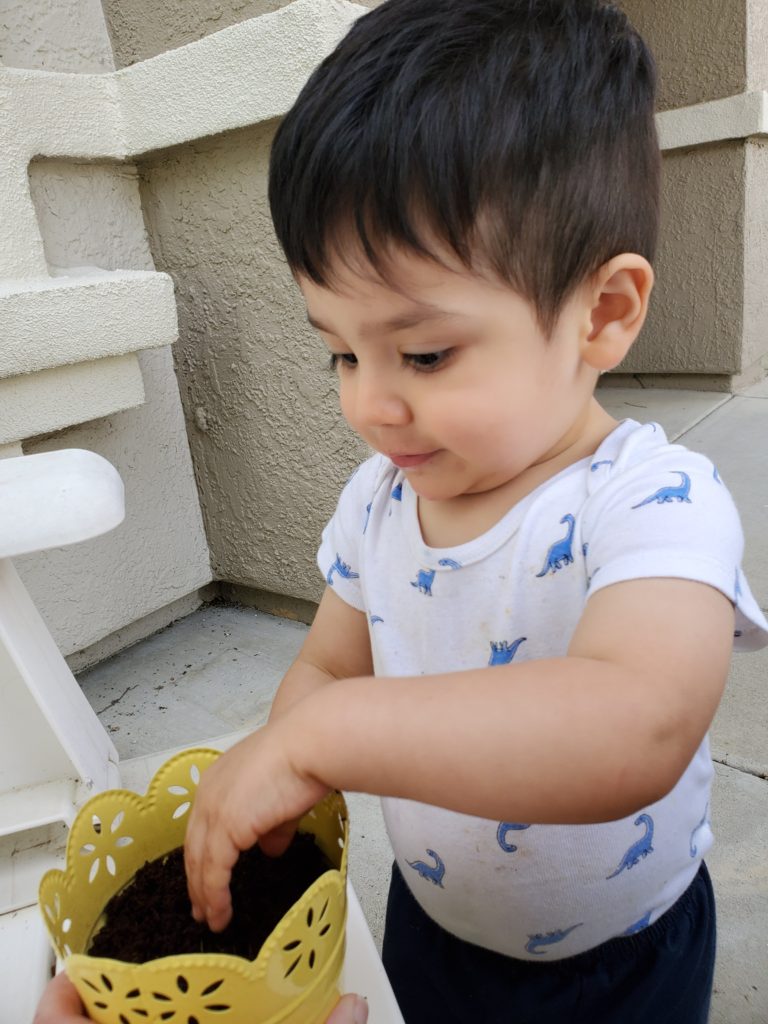 Afterwards, we placed the flower pot on our window sill so that we could always have a view of the pot and the growing flowers! It is also a pretty prime spot where our house sits and it will get ampule amount of sunlight. We made sure to water the seeds and keep the soil moist before leaving them there to do their thing!
What Now?
I plan to incorporate a watering activity about every other day for my son to have the chance to see any progress that may pop up! This will give us more of the opportunity to talk about water being food for the plants and helping them grow.
We can start by taking a walk around our neighborhood and seeing the various flowers and plants from neighbor's yards. When we end our walk, we'll go to our little pot and discuss what stage of life it is in. Furthermore, I would incorporate baby sign language into the learning and show him the sign for flower!
This might seem like a lot of information for a toddler. However, I believe it is always positive to incorporate as many learning opportunities as possible. You'd be surprised to know how much they soak up and learn! Be their teacher!
Additional Learning and Fun!
To further expand on this learning opportunity, you could introduce some fun learning books like Planting a Rainbow by Lois Ehlert or Bees Like Flowers by Rebecca Bielawski.This would help with gaining the understanding of the importance of flowers and nature in general.
For older children, you could give them a pot to plant on their own if they are at the stage where they can be trusted to use the materials appropriately. Then, they could have a journal and document every few days what they see happening with their plant. They can also use this journal to log when they last watered their plant. This activity gives them a sense of responsibility as well as a love for nature!
You can click on the image below for your FREE downloadable coloring pages to continue with learning and appreciating flowers!
How Do You Teach Your Child(ren) about Plants?
What are some other ways you have incorporated learning tp plant with your children? Are there successful techniques you use when planting? I am interested in reading your comment below on what you do differently to teach your child(ren)!
As my son gets older, I plan to create a small garden in our backyard where we can grow numerous plants. This will also be a way for my son to increase his sense of responsibility by watering them. So far, I am really happy with this mini growing kit and look forward to purchasing more this spring!
Always,
Samantha <3
Pin It!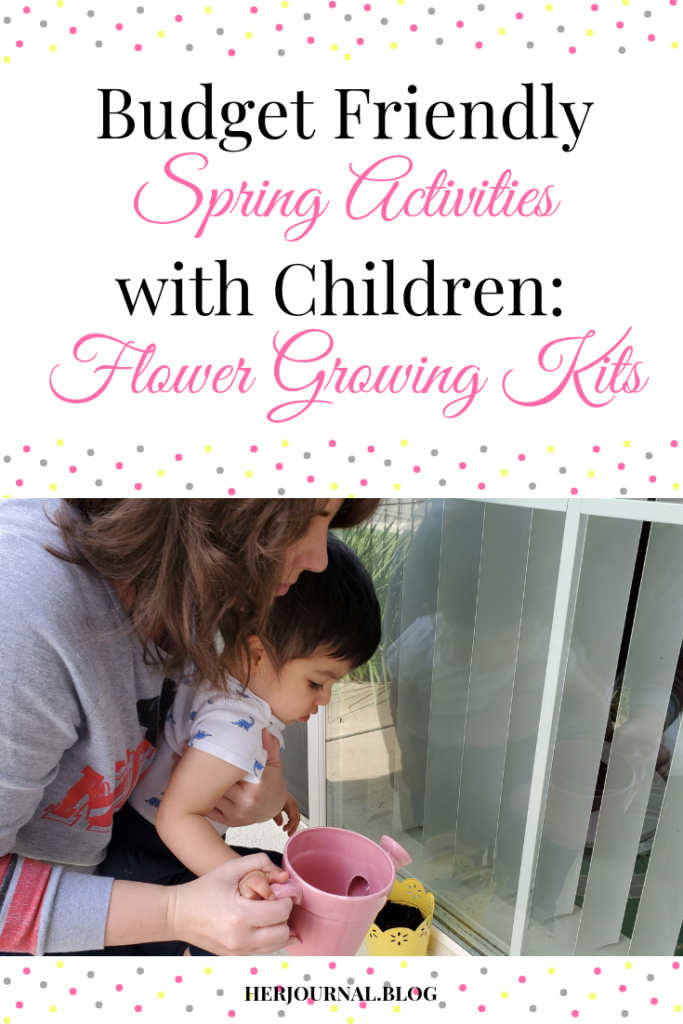 You May Also Like…