We may earn money or products from the companies mentioned in this post.
Are you ready to have your baby?! Are you both excited and nervous at the same time?! Trust me, it's all normal to have so many mixed emotions about what is coming next in your pregnancy. I've totally been there and done that.
Nothing about this next step in your journey will be easy, but it will all be worth it once you are holding your sweet baby! This might be the last step in your preparation, planning, and nesting phase; preparing the hospital bag essentials.
What should go in your hospital bag? I'm sure you have noticed there are many answers out there telling you what you should or should not bring. It's overwhelming for sure! I can tell you now, I definitely over packed for our delivery, but that was not necessarily a bad thing.
Based On My Experience
Before packing your hospital bag essentials, I would first advise you to take a tour of the hospital where you will be delivering. Take this opportunity to look at the room where you will be staying and ASK all the questions.
Where I delivered, there was no need to make an appointment to tour the hospital. We simply took a peek after a prenatal appointment and had a one-on-one with a labor and delivery nurse. She showed us one of the rooms and informed us of everything that they provided.
My hospital was great because they really provided everything our baby would need while there. They also took such great care of the mamas. The nurse was definitely up front with me about a couple of items that they provided to which she suggested to bring our own for comfort purposes.
In the end, you pack what you feel will make you the most comfortable during this part of your journey. Just in case you need some help, I have created a list of hospital bag essentials that I felt were important to have.
Please keep in mind that I had a vaginal birth with no complications. You may want to alter your hospital bag essentials to fit your needs if you are having a scheduled c-section.
The Hospital Bag Essentials for Mom
1. Breastfeeding Supplies
If you choose to breastfeed your baby, you will need to bring your own nursing bra or nursing camisole with you. The hospital should provide a hospital gown for you. Let's be honest, those don't provide your boobs with any kind of support.
Hospitals typically supply some kind of manual expression pump if you happen to need to pump while you are there. Don't stress on having to lug around your pump and pump accessories.
The hospitals also have formula on hand if you choose to formula feed.
2. Sweats
Girl, let me tell you that sweats were my best friend in the hospital! I always hear that hospitals are so cold and again, hospital gowns don't provide much warmth. It was also November when I delivered so it was already cold outside.
I took a couple sets of sweats with me. They are not only baggy but they help your body to not feel so confined after giving birth.
Your body has spent the better part of approximately 40 weeks growing. Having the expectation that you're just going to put your pre-prego jeans on right away is not such a good plan. Let your body rest in the comfort of some baggy sweats.
3. Travel Size Toiletries
There is nothing like a shower after giving birth! After you have had everyone poking and prodding your downstairs area every so often to check on your dilation, then you literally have a human plus a placenta exit your body, a nice cleaning of your body makes all the difference.
This was the part where the labor and delivery nurse was upfront with me about. My hospital provided a 3-in-1 body wash/shampoo/conditioner for moms to use once able to shower after birth.
While this is probably a money saver for them and could be easy for other moms to use, I was not comfortable with this. I decided I would bring my own set of toiletries, deodorant, toothbrush, and toothpaste.
4. Snacks
Once you are checked into labor and delivery, you're not supposed to eat anything except ice chips. This is one of the reasons why I labored at home for as long as I possibly could.
I started early labor at around 9:00 a.m. and didn't check into the hospital until about 9:30 p.m. I think my last meal was around 2:00 p.m. (an egg sandwich). My active labor started very quickly after that last meal.
Believe me, I needed all that energy to focus on the contractions versus focusing on my hunger. Had I checked in to the hospital sooner in the day, I would have been one gigantic pain in the ass being in pain and hungry!
My son was born at 3:15 a.m. the very next day so I wasn't allowed to eat until almost 5:00 a.m. There are some bodily functions that need to happen before you can eat. Thankfully, my body did what it needed to do very quickly. I was starving and needed something fast.
As a result, my snacks were calling my name from inside of my bag. Those held me over long enough for the food to be delivered to my room. I will never forget how good that french toast, eggs, and sausage tasted!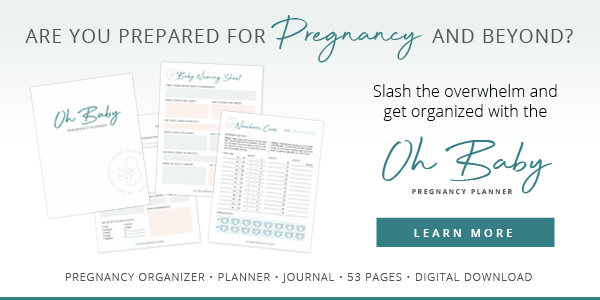 5. Granny Panties
This might seem unusual to have on the list. However, after giving birth, there is quite a bit that your body goes through. Your body has to get rid of what it has been holding in for over nine months (wonder where your period went?) and all that lining has to shed.
My hospital provided all the pads and mesh underwear that they have you put on. But the mesh panties are not so comfortable! If you can handle wearing those for your whole stay in the hospital then go for it.
Otherwise, get yourself some granny panties that you won't mind throwing away if and when they get blood on them. It happens!
6. Hair Ties
If you're like me, then you are never without a hair tie on your wrist. I even sleep with one on my wrist because you just never know.
Having a couple of extra hair ties in your bag could be helpful. Maybe you need more than one hair tie in your hair. Even more, what if your hair tie breaks? You will want to have the least amount of distractions while giving birth. Hence, your hair being in your face is something that can drive you crazy.
Take some of the control of this whole situation by being prepared for that little annoyance.
7. Legal Items
To cover all basis, make sure you have your ID/driver's license handy and your insurance card. Honestly, I don't remember being asked for these items because I was in quite a bit of pain when I checked in. Maybe it's possible that my husband took care of this part of the process while I focused on my breathing.
Either way, just have it available for check-in.
8. Phone Charger
Due to not knowing how long you will be in the hospital, having a charger for your phone can be crucial. This is especially important because taking all the pictures of your precious new baby will probably drain your battery quickly!
Hospital Bag Essentials For Baby
1. Car Seat
The little baby who has been riding safely in your womb will need a new safe carrier to ride in outside of your womb! As a result, you need to have the car seat ready to go so that you can bring your baby home safely.
This can stay in the car until you are ready to leave; you don't need to bring it up to your hospital room with you when you check in to labor and delivery.
2. Going home outfit
The hospital provided basic outfits for my son when we were there. I did want him to have a special little outfit to go home in, though. We were gifted a cute little onesie set that I absolutely fell in love with at our baby shower.
Not that our son cared what he was dressed in at the time, but you take a thousand pictures of "going home" so I wanted those pictures to be even more memorable!
3. Any Special Items You Want Baby to Have
I did bring a couple of swaddles to have one hand, but again, the hospital provided so many blankets for our little guy. I never took out any of the blankets I had brought for him.
If there is a special receiving blanket that you want your child to have while in the hospital then definitely bring it along! Or any other special items such as lovies.
We also did not bring any pacifiers because the hospital provided one there also. If there is a specific type of pacifier you only want your baby to have, then make sure to mention that to the staff so that you can have it ready.
Hospital Bag Essentials For Dad
1. He's On His Own!
Ha! I thought I'd give you a little smile after having you stress out after reading this list. But seriously, Dad-to-be does need a little bag for himself. I'm pretty sure he can handle packing his own bag but just in case, here is a reminder of what he might need: change of clothes for at least two days, his own toiletries (unless you don't mind sharing yours with him), phone charger, and his own snacks.
**Special Note**
Our labor and delivery nurse was AMAZING! I loved having her and would request her again if I could. One of the things I loved most was her honesty.
When we were getting ready to leave the hospital, she made a quick comment about how she hated that the hospital would have to throw away all the left over supplies from our room and then restock it all with new supplies for sanitation purposes. Makes sense though, right?
However, there were a couple of packs of postpartum pads in the cabinets, about three more receiving blankets in the drawer, and a pack of newborn diapers that had barely been used that we would be leaving behind. She left the room to go "check something" and said she'd be back in 10 minutes.
My husband and I took this opportunity to stock up on supplies that were needed. Just a tip!
What were the hospital bag essentials that you packed?
I'd love to know the interesting items everyone finds they need for this outstanding life event! Your tips could help out another mama or even myself in the event that we decide to have more babies!
Additional Resources
Always,
Samantha <3
You May Also Like: