We may earn money or products from the companies mentioned in this post.
Recently, my little family decided it was time to transition baby to his own room and for Mommy and Daddy to have our own space again. This was a decision we made that took some time to execute.
Honestly, it was hard for me to come to terms with letting go of the reins and letting our baby have his own space. After all, my son is now 14 months old and would most definitely benefit from having his own room. The baby clothes are just taking over!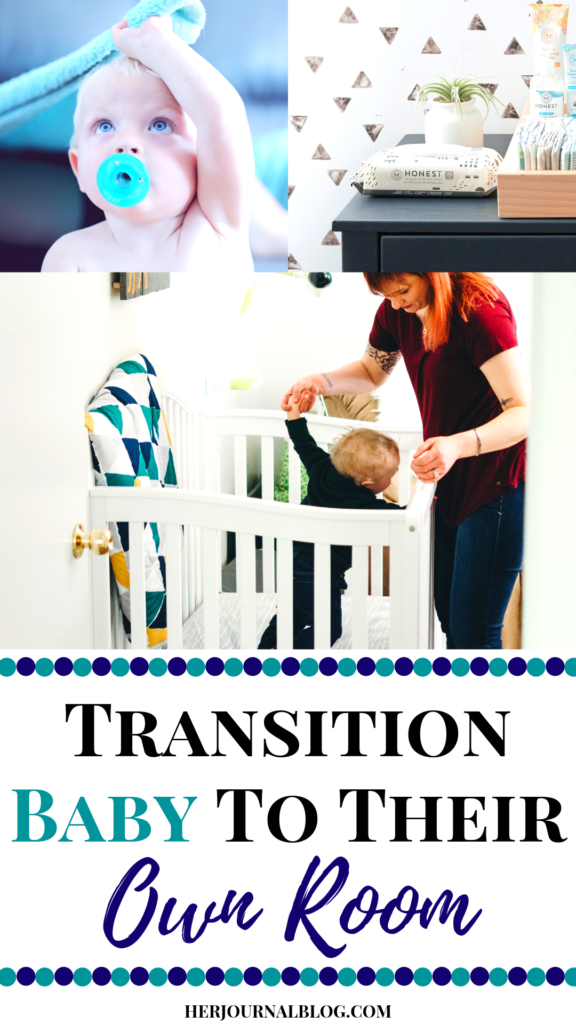 Considerations to Transition Baby to Their Own Room
To preface a little, we were living in a space where my husband and I had to share a room with our son. We were fortunate enough to have circumstances change recently. This allowed us to have an extra room that our son could take over.
It's not that I wanted to keep our son from having his own room for so long. Let's face it, I loved having his crib right next to my side of the bed! We were able to make this decision based on a number of factors. Therefore, we have been able to make the transition a smooth one for baby.
I've created some tips for others looking for information on when to transition baby to their own room. Additionally, I've included some items we invested in to help make this a smoother process.
**Please note that this information is based on my experiences and should not be used to replace advice given by a doctor/pediatrician. My son's pediatrician agreed that he was healthy and could have his own room.**
1. When do you know baby is ready?
I've researched this topic and have found several sides to this story. I've seen people suggesting to put baby in their own room from day one. I have also seen people waiting until baby is six months while others wait until baby's first birthday. Basically, whenever you decide it's the best thing for your family then that's the best time to do it.
2. Are Mommy and Daddy ready for this?
As a mom, this was probably harder on me than it was on my son and my husband. All the things ran through my mind about the separation: Will he be okay? Will he need me? What if something happens that I can't hear? What if this and what if that…? All the torturous questions had my mind spinning and racing. However, I had to realize that it was the best thing for us to do at the time. Slowly letting go is harder to do than it seems!
3. Is baby able to self-soothe him/herself back to sleep?
This was a big thing for us. My son is not at all the best sleeper. In fact, he had not slept through the night from day one up until around 13 months old. Even then, he still wakes at least once per night some nights.
I had to consider if it was worth having him separate. Truthfully, who wants to walk around across their home in the middle of the night to soothe a baby? Rolling over to his crib next to your bedside is much easier.
However, it was a sacrifice we needed to make! We had faith that we had taught our son to trust his environment, trust us, and we made sure he had the necessary items that made him comfortable in his room.
A gift that we received for our baby shower was this adorable owl nightlight that included music. It displays stars on the wall or ceiling and its belly glows. Having a night light helped our son to not be afraid of his room when it is dark. A common fear in children is the fear of the dark and this night light took that fear away.
In addition, it provides sufficient light in the room for those times that we need to go in there to check on him. This device also serves as a white noise machine and offers various tunes to choose from.
The next best thing to actually being in the room with baby is having a baby monitor that includes audio and visual monitoring. This baby monitor that we purchased fit our budget and fit our needs. We are able to see our son sleeping peacefully in his crib. The most important thing to me was having a clear picture of him. I wanted to be able to see him breathing without having to go in his room.
Due to discussions of SIDS, I have grown to be terrified during my son's first year of life. That is a difficult thing to break even though he is 14 months old now. Being able to check on my son's breathing was most important to me.
This monitor also allows me to talk to him when he is upset and soothe him while I'm making my way to his room. I am beyond grateful that we have this device! We even have the option to add on additional cameras later in the event that we have more children.
What are your thoughts on transitioning baby to their own room?
After all the planning, considerations, and preparations we did to ensure this was a smooth transition for our son, I know that not all the advice given here works for each family. What did you do differently? Did any of the above information help your family? Was the transition hard for you to come to terms with like it was for me (or am I just crazy)? Let me know in the comments!
Additional Resources:
How to Get Baby to Sleep in the Crib Throughout the Night- CenduParam.com
Always,
Samantha <3
Pin It!